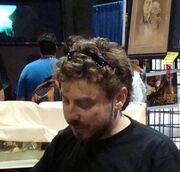 Damian Kindler (born in Melbourne, Australia) is an Australian-born Canadian writer and producer, and the creator of the Sanctuary web and TV series.
He immigrated to Toronto, Canada, when he was young, and currently resides in Vancouver, British Columbia.
He is most noted for his contributions to the Stargate SG-1 and Stargate Atlantis television series. He joined the Stargate SG-1 production team at the start of season six in 2002. Since then he has been both writer and producer for the series. In 2008, he became the creator and co-writer of the web-series, Sanctuary, and the follow up full series of the same name.
Webisodes
Edit
TV episodes
Edit
External links
Edit
Ad blocker interference detected!
Wikia is a free-to-use site that makes money from advertising. We have a modified experience for viewers using ad blockers

Wikia is not accessible if you've made further modifications. Remove the custom ad blocker rule(s) and the page will load as expected.