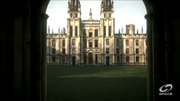 The
University of Oxford
(or simply
Oxford
), located in the
United Kingdom
city of the same name, is the oldest surviving university in the English-speaking world, and widely regarded as one of the world's leading academic institutions.
The individuals later known as The Five first met at Oxford in the second half of the 19th Century.
Helen Magnus was the only female student attending Oxford at the time thanks to her father's influence in society, though she was "technically" not a true student and could only sit in on classes. Despite that, she put her heart and soul in to her studies much to the amusement of her fellow student who just saw her has a woman in the wrong place for the wrong reasons. Despite these drawbacks, Magnus eventually drew the attention of four of her fellow students who like her were considered "odd" and "outsiders" in the school due to their intellects being ahead of their time: sharp-minded James Watson, crafty Nigel Griffin, wild Nikola Tesla and the mysterious John Druitt all gravitated to Helen becoming close and dear friends to her with a respect for that no man of the age would have for a woman.[1]
Notes and References
Edit
↑ Episode 1x12 "Revelations, Part I"
External links
Edit
Ad blocker interference detected!
Wikia is a free-to-use site that makes money from advertising. We have a modified experience for viewers using ad blockers

Wikia is not accessible if you've made further modifications. Remove the custom ad blocker rule(s) and the page will load as expected.