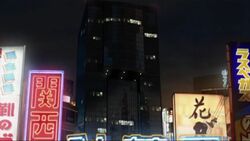 The Tokyo Sanctuary was the main branch of the Sanctuary Network in Tokyo, Japan.
It was the first Sanctuary in the Network to be attacked by the Cabal's super soldiers during their campaign. The Sanctuary fell in less than twenty minutes, resulting in the death of its house head, who chose not to evacuate with the rest of the personnel and movable residents.[1] Tokyo was declared a total loss and its residents had to be transferred to other Sanctuaries.[2]
Several months later the rebuilt Tokyo Sanctuary had to deal with the escape of Suki when she was severely agitated by a wave sent out by Big Bertha.[3]
The Tokyo Sanctuary was permanently closed down in 2011, shortly before Helen Magnus revealed the existence of the Underground Sanctuary to Will Zimmerman.[4]
Residents
Edit
Sanctuary team
Edit
Patients
Edit
Notes and References
Edit
Ad blocker interference detected!
Wikia is a free-to-use site that makes money from advertising. We have a modified experience for viewers using ad blockers

Wikia is not accessible if you've made further modifications. Remove the custom ad blocker rule(s) and the page will load as expected.