Underground Sanctuary
Talk

0
971pages on
this wiki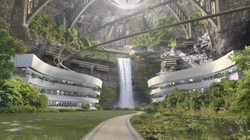 The Underground Sanctuary is the newest and main branch of the Sanctuary Network, hidden at a secret location beneath the surface of the Earth. It is the largest and most modern Sanctuary ever built, believed to hold room for all Abnormals in the world.
After she travelled back through time, Dr. Helen Magnus realized that her concept for the Network would not work into the 21st century, so she made preparations to change its nature when she resurfaced from her self-imposed exile in 2011.
When the Old City Sanctuary was destroyed, the new underground headquarters was already up and running. Magnus revealed its existence to Will Zimmerman a few days later, noting there was a lot of work to do.[1]
Notes and References
Edit
Note that in the fourth season deleted scenes, Tesla accuses Magnus of hiding secrets, and that in the early 20th century she (or rather her hidden self) had him develop TNT devices to try and find a nonexistant underground cave dwelling abnormal shark in Peru/Bolivia - an area that he now knows to provide direct access to Hollow Earth. This could be the real location of the underground sanctuary, plugged into the original Praxian transport system.
The hidden Magnus should have tried to contact her father so that as many Praxian Abnormals could have got out to their tribes, while the Praxian humans (or as many as would listen to vague warnings) could have gone to the bunkers, and then / or to, this new location to have a new home (if they had shown somewhere in the scene a couple of the distinctive Praxis guards, maybe with their families, this would have been clear). It's unlikely that, despite her worries about altering the timeline, she would not have tried to have attempted some sort of evacuation, however limited.
↑ Episode 4x13 - "Sanctuary For None, Part II"